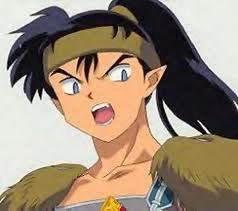 Koga
The leader of the wolf demon tribe is not Inuyasha's favorite person. Koga is cocky, self important and conceited. He and Inuyasha are always at odds with one another ever since Koga kidnapped and professed his love to Kagome. Koga has two jewel shards in his legs. He use to have three but lost one. With these shards he is very quick and his demon skills are amplified. Koga has often crossed paths with Inuyasha because he too is in search of Naraku. Over time, Inuyasha has learned to tolerate Koga's presence due to Kagome's insistance. Although Inuyasha dislikes Koga he knows that Koga would never harm Kagome and would probablly die trying to save her if he had to.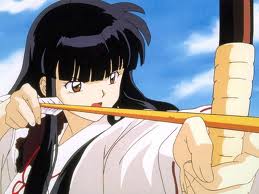 Kikyo
The ressurected Kikyo also seeks the destruction of Naraku. Because of him, her life that could have been never was. Her love for Inuyasha was twisted and shattered by Naraku. She knows that she can never reclaim what she has lost. Kikyo's spiritual power is second to none, and she is one of the greatest threats to Naraku.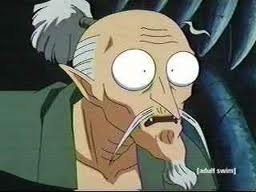 Totosai
Totosai is a master weapon craftsman. He forged the three swords of the great dog demon, Inu no Taishou (Inuyasha and Sesshomaru's father.) Totosai has great knowledge but getting information out of him can prove quite harrowing because his memory is not what it use to be.
Friends by association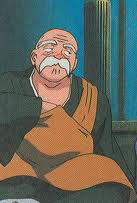 Mushin
After Miroku's father's death, Mushin took over the role of mentor to young Miroku. These days Mushin spends most of his time drinking sake and sleeping but Miroku still has great affection for his friend.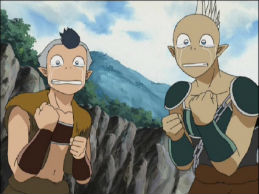 Hakkaku and Ginta
Hakkaku and Ginta are Koga's faithful friends. Following their leader wherever he leads them and trying desperatly to keep up with him. Over time, they became fond of Inuyasha and his group because of the kindness that Kagome has shown them.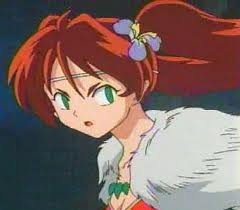 Ayame
Leader of the northern wolf demon tribe, Ayame is betrothed to marry Koga.


Higurashi family


Kagome's family have given Inuyasha a taste of what a family feels like.
Uneasy alliances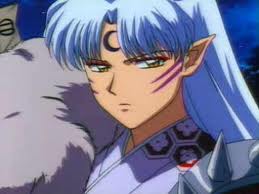 Sesshomaru
Sesshomaru despises his halfbreed brother, Inuyasha, and wants the sword that his brother inherited from their father, the
Tetsusaiga
. Sesshomaru's own inheritance,
the Tenseiga
, is an affront to him because this sword is useless in battle. Sesshomaru is a demon of incomparable power, possibly the most powerful after Naraku. Naraku is an abomination that Sesshomaru has sworn to destroy. In his search for Naraku, Sesshomaru must often cross paths with his halfbreed brother who is also on the same quest.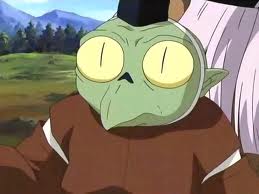 Jaken
Jaken is Lord Sesshomaru's undying loyal servant. His only wish is to serve his Lord but Sesshomaru is not an easy man to live with and his temper is quite volatile. Nevertheless, Jaken's obedience is absolute and no desire of his Lord will he refuse, even watching over his Lord's new mortal companion, Rin. Jaken's most precious possession is his
staff of two heads
, a gift from his Lord.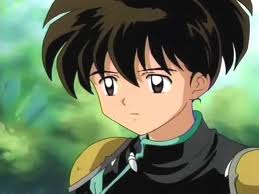 Kohaku
Sango's younger brother is under Naraku's influence and although he is a skilled demon slayer, under Naraku's influence his skills have become sharper and deadlier. Kohaku is often used by Naraku to cause dissention among Inuyasha's group. To Inuyasha, Kohaku is an obstacle to dispatch but because of Sango he must restrain himself to avoid killing the boy.
See also